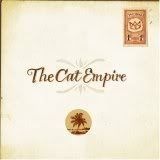 The Cat Empire
are from Melbourne, Australia where they have gone double platinum on two occasions. Their latest,
Two Shoes
, is their bid to take the United States by storm. If you are a fan of late-night television, you may have already heard the band.
Released in 2005 in AU (and certified double platinum), the album hit the States this year.
Two Shoes
was recorded in Havana, Cuba in the same studio as the
Buena Vista Social Club
album. Apparently the Buena Vista spirit found its way onto the album, as this record exhibits a Latin influence unseen on prior releases, courtesy of session musicians billed as the Empire Horns. The band's standard-issue jazz, hip hop, funk, ska, and rock hodgepodge remains true, so early adopters of The Cat Empire need not worry about the band losing their crown.
On the title track, reggae vocals give way to salsa horns and a gypsy chorus. The joyous conviviality of "Two Shoes" gives way to the military metaphor of "The Chariot", which in turn is flanked on its opposite side by "Sol y Sombra". By its name, this song is The Cat Empire's homage to their host country while recording
Two Shoes
.
"Sly" is a romping track that blends the Blues Brothers with callback vocals and handclaps over lyrics about a girl's dancing skills (incidentally, a girl who became one of the band member's girlfriends). A band that got to support James Brown on tour before his death, The Cat Empire have enjoyed much success in their home land, ironically dismissed on "The Car Song", where Harry Angus runs into an old high school mate who is enjoying much success of his own. Whether The Cat Empire will break into the American scene remains to be determined. Their very eclectic sound can be viewed as either uniquely blending a broad base of influences or wildly mixing sounds into a scatterbrained pile. Either way, The Cat Empire are not afraid to mix and match different sounds from the world as they embark on a US tour. Rumor has it that the band should really be revered for their live set, which Any Given Tuesday will get to see on July 27 at
Ram's Head Live!
. Stay tuned for that!