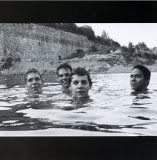 I love
Slint
's
Spiderland
. It's a great record. But I'm now convinced this band is a one-trick pony. After playing
Spiderland
live in its entirety earlier this year in Spain and now at Pitchfork last weekend and the other night at Webster Hall in NYC (thanks,
Brooklyn Vegan
), I am tired of hearing about the band and their live regurgitation of a seventeen-year old album. It must be wicked cool to see the band play the album live, but aren't they just setting themselves up as a one-trick pony by touring the world and playing
one album
in its entirety over and over and over
? And now that
someone has posted news that their (maybe) new material is junk
, my suspicions are confirmed. Thanks for a great album, Slint, but maybe you should stop while you're ahead.