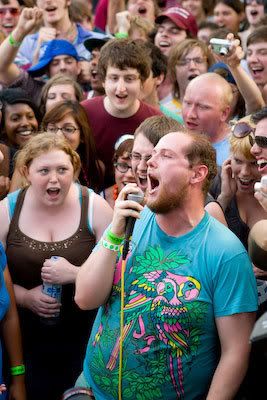 It is worth noting that my Chicago vacation coincided with the
Pitchfork Music Festival
, which I did not attend. Why? One reason is that Pitchfork is an online zine that you love or hate, and I generally hate it. I just can't get down with their whole hipster agenda. Sure, I would have loved to have seen
Slint
,
Cat Power
(still listening to
The Greatest
, Chan. . .brilliant record!), etc., but I don't think I could take 3 hours (not to mention 3 days) with a bunch of white belts and pencil jeans. And hearing a bunch of suburbans and middle-class urbanites getting live with
Clipse
and drug violence . . . I'm getting ill.
Brooklyn Vegan
, however, has an interesting article about the Fire Marshal shutting down
Dan Deacon
and
Girl Talk
because their sets drew massive crowds. Cool pictures of the Deac on BV, looking a bit rotund and without his usual uber-geek glasses (see above and at BV's site. . .how about that gingerly redhead looking enamored with Dan Deacon?). It's alright, Danners, I'm four-eyed and kind of round myself. But there I was, in the Chi, and another person was there reppin' Balto, and you left me hanging, Dan. You left me hanging and didn't get in touch so we could hold hands and walk through
Millenium Park
together. See if I come to
your set at Whartscape
this weekend!