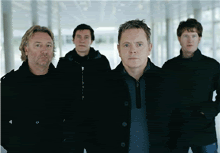 Bernard Sumner and Stephen Morris
claim that New Order can continue
without Peter Hook.
Hooky recently stated that the band has broken up
, but Sumner and Morris just issued a statement stating:
"After 30 years in a band together we are very disappointed that Hooky has decided to go to the press and announce unilaterally that New Order have split up. We would have hoped that he could have approached us personally first. He does not speak for all the band, therefore we can only assume he no longer wants to be a part of
New Order
."
Yeah, and
Smashing Pumpkins
are just as great without James Iha and D'Arcy/
Auf der Maur
.