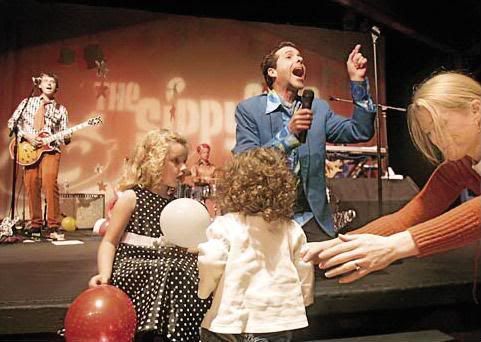 Young hipsters and teenyboppers can jump all over me here, but I just heard about
The Sippy Cups
, a psychedelic rock band whose mass audience is pre-K heads and their parents. Dude, The Sippy Cups are
not
The Wiggles
. Song titles like "Magic Toast" and "Snail Song", released as a single produced by
Eric Drew Feldman
(
The Polyphonic Spree
,
Frank Black
,
PJ Harvey
), are accented in concert by covers of bands like The Velvet Underground,
Pink Floyd
,
The Who
, and
David Bowie
make for a live set that parents
want
to take their kids to, and the kids want to go.
And you don't have to go to the library or Chuck E. Cheese to see The Sippy Cups, because they are playing
House of Blues
Sunset Strip on the morning of April 14th and House of Blues Anaheim at 3:30 p.m., with another show in San Diego the next day. The Sippy Cups play at venues you would
actually go to
, and play music you
actually like
. And you can turn your young ones on to good music.
As a future parent (cover your ears as Kristen screams) myself, I am inspired. If it will get my little tyke to like PJ Harvey, I will put on a polka dot shirt, grab a guitar, and start a band like The Sippy Cups. Or, I can just procreate and take my kid to see them. Either way, this may be the dawn of a new day.