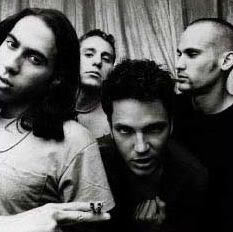 One of my all-time favorite bands,
Third Eye Blind
, will be playing a few regional shows. Let me know if you're going to any of them so we can hi-five about how awesome 3EB is, and how underrated they are!
04/17/2007 Easton, PA - Lafayette College - Kirby Field House
04/19/2007 Providence, RI - Lupo's Heartbreak Hotel
04/20/2007 Schenectady, NY - Union College - Memorial Fieldhouse
04/21/2007 Babson Park, MA - Babson College - PepsiCo Pavilion
04/22/2007 Johnson City, NY - Magic City Hall
04/24/2007 New York, NY - Nokia Theatre SOLD OUT
04/25/2007 Poughkeepsie, NY - The Chance SOLD OUT
04/27/2007 Sayreville, NJ - Starland Ballroom SOLD OUT
04/29/2007 Baltimore, MD -
Rams Head Live!
SOLD OUT
05/01/2007 Washington D.C. -
9:30 Club
05/03/2007 Hampton, NH - Hampton Beach Casino
05/04/2007 Providence, RI - Lupo's Heartbreak Hotel
05/08/2007 Wantagh, NY - Mulcahy's Rock & Roll Bar