In one of the most eclectic evenings one could spend listening to live music,
Happy Chichester
,
Busdriver
, and
RJD2
rocked
Sonar
here in Baltimore this past Saturday, the last night of the current leg of their tour.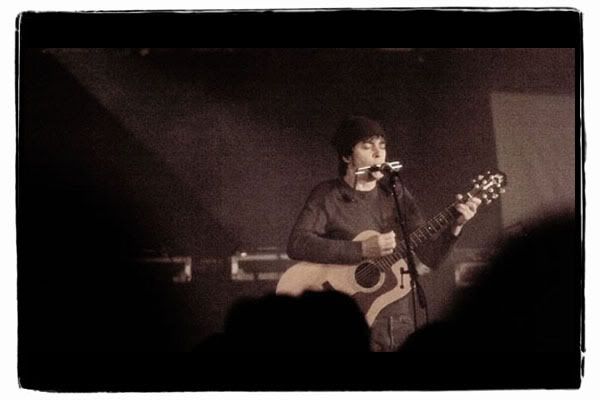 Opening up the show was Happy Chichester, performing his early-evening solo act before a modest audience of scenesters. It would be reasonable to expect an audience to wonder just what a man with a guitar performing an alt-country song called "Silent Movie", complete with harmonica, was doing opening for RJD2. Fortunately for Chichester, his obvious glee when he performs is infectious, and rubs off on the audience. And in case just having fun playing music isn't enough, in a nod to hip-hop heads in the crowd Happy broke out the beatbox on "Me And My Machine", and emulated a didgeridoo during the course of his set. Setting down the guitar, Chichester went on to perform the single from
Lovers Come Back
(Read a review of Happy's new album,
here
), "Artificial Fanfare (Music In My Head)", as well as "A Man Needs An Airplane", (kind of) dedicated to the girl in the audience with the airplane earrings. Just as demonstrated on
Lovers Come Back
, Happy Chichester is a multi-talented musician, and his live set this night is telling of why his live concert bootleg,
Live At The Aladdin Theatre
, became its own form of underground currency, selling on eBay for as high as $50.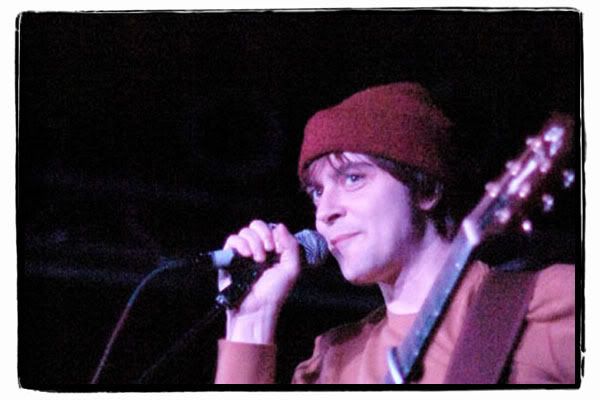 After his set, I had the chance to speak with Happy about the tour and what it's been like traveling as a solo act for the first time, as well as opening for RJD2. Happy admitted that the tour's lineup was obviously somewhat eclectic (Happy's brand being markedly different from Busdriver's maniacally uptempo hip-hop and RJD2's similarly uptempo hip-hop/techno sound), but noted that Baltimore was a city where music fans appeared to be very open to broad ranges of sound.
Discussing performing in different cities, Happy explains that cities have their own persona, and that some cities "like Austin and [based on tonight] Baltimore" are cities that love music and where artists love to come and perform for such a fun and receptive crowd. Having spent the previous night in DC at the
9:30 Club
(which Chichester describes as one of the "best places play" anywhere), I explained that Baltimore often was treated as DC's ugly cousin, which he admitted he had heard but reiterated how impressed he was with this night's crowd and how well received he felt by them.
Happy went on to share a small piece of his personal history, being born in Braddock Heights, Maryland, and how special this show was to him, returning to Maryland as a solo artist for the first time. With this brief conversation, and Happy's touching remarks about Any Given Tuesday's
review
of
Lovers Come Back
, I left Happy to relax a bit before coming back to the stage with RJD2 as a member of his full band.
Next to take the stage, Busdriver immediately changed the tone of the evening with his uber-speed rapping and ultra-weird stage persona, complete with party hats. After all, it's a party, right? From the piano hook and crowd call on "Avantcore" to the delectable strangeness of "Casting Agent And Cowgirls" and reggaeton beat of "Kill Your Employer", Busdriver by design is meant to mess with your head. Personally, I'm convinced it's all that reverb in the second microphone. Though if Busdriver had delivered on the guitar solo "with my tongue around the frets" that he mentioned, that would probably do the trick, too. Hopefully he'll continue making his mark on hip-hop so it can bounce back from abysmal sales and return to a glory of producing cutting-edge sounds. Busdriver has streaming audio on his
MySpace
, and MP3s on his
site
.
By the time RJD2 took the stage, the crowd had already broken loose with the electric boogaloo during the Busdriver set (which one of my accompanying friends, Tim, described as "Lenny Kravitz with crack"), and they were hungry for RJD2 plus his full band. Switching instruments during the set like pop stars switch wardrobes, RJD2, Happy Chichester, and
Derek DiCenzo
moved around the keys, the strings, and the decks like dervishes, before moved behind the decks and beat machines and cut loose. Complete with makeshift video screen featuring cut scenes and a close-up on RJD2's fingerwork, the crowd got live with RJD2 following up on two very capable opening acts and the full band set.
RJD2's tour will continue with Happy Chichester and Busdriver (who will drop off to be replaced by
Pigeon John
in late April) next month:
Wed 04/11/07 Starlight Ballroom Philadelphia PA ***
Thu 04/12/07 The Crazy Donkey Farmingdale NY ***
Fri 04/13/07 Webster Hall New York NY w/ Happy Chichester
Sat 04/14/07 Middle East Downstairs Cambridge MA ***
Sun 04/15/07 Pearl Street Nightclub Northampton MA ***
Mon 04/16/07 La TuLipe Montreal QC ***
Tue 04/17/07 Phoenix Toronto ON ***
Wed 04/18/07 Magic Stick Detroit MI ***
Thu 04/19/07 Grog Shop Cleveland Heights OH ***
Fri 04/20/07 Metro Chicago IL w/ Happy Chichester
Sat 04/21/07 First Avenue Minneapolis MN ***
Sun 04/22/07 The Picador (formerly Gabes Oasis) Iowa City IA ***
Mon 04/23/07 Birdys Indianapolis IN ***
Wed 05/09/07 Fox Theatre Boulder CO **
Thu 05/10/07 Bluebird Theatre Denver CO **
Fri 05/11/07 Abbey Theatre Durango CO **
Sat 05/12/07 The Clubhouse Tempe AZ **
Sun 05/13/07 Belly Up Tavern Solana Beach CA **
Mon 05/14/07 Henry Fonda Theater Los Angeles CA **
Tue 05/15/07 Mezzanine San Francisco CA **
Thu 05/17/07 Wonder Ballroom Portland OR **
Fri 05/18/07 Neumos Seattle WA **
Sat 05/19/07 The Nightlight Lounge Bellingham WA **
** w/ Pigeon John & Happy Chichester
*** w/ Busdriver & Happy Chichester
Thanks to Tim and
SideRhodes Photography
for the awesome photographs.