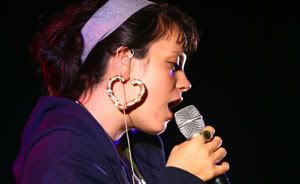 Lily Allen
and I agree on one thing: she's boring. Touring in support of
Alright, Still
in the US right now, Lily has stated "As much as I love driving across America and doing the same thing every night, I'm bored slightly, this is no reflection on my audience, 'cause I have a huge amount of respect for them. It's the songs, I'm bored."
The reason for that is the lack of a catalog to pull set lists from.
Alright, Still
has twelve songs on the US version (plus a rehash of "Smile"). Throw in a couple covers to spice up your set, and you're still only at about 15 songs in your repertoire. Lily, we here at Any Given Tuesday suggest you finish up this current tour and go back across the pond and work on some new material.