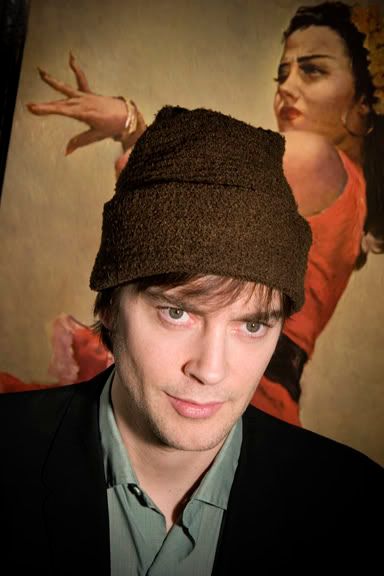 Happy Chichester
, from Columbus, Ohio, has been buzzing around the scene for quite some time. He may be best known as a member of Howlin' Maggie, whose single "Alcohol" hit
Billboard
's Mainstream Rock chart as well as the Modern Rock chart. You may also know Happy from his work with the Afghan Whigs. Regardless, Happy has released a full-length solo album,
Lovers Come Back
, aptly released on Valentine's Day this year.
Lovers
was a long time coming, with songs dating back in original composition up to 20 years ("A Man Needs An Airplane").
The songs on
Lovers
are an amalgam of songs telling different stories, creating a tale which is very much influenced by, and pays homage to, Columbus. From the pop-rock single "Artificial Fanfare (Music In My Head)" with its sing-along chorus to the more political and strained but equally catchy "Lost Connection", the songs are the product of a career with many bands but with one common demoninator: Happy Chichester from Columbus, Ohio. Even if the lyrics tell their different tales, the music itself speaks about a living, breathing city that means almost as much to Chichester as his wife, Laura, for whom he wrote the simple heart-on-sleeve piano track "Lover".
A multi-tasker of a musician, Chichester plays the mass of the instruments on the album, but enlists scene musicians like Foley (who plays bass on "You're Blowin' My Mind") and Barry Hensley (who plays pedal steel guitar on "Lover" and "Silent Movie"). With
Lovers
Chichester is demonstrating that Columbus is "a musical community rich in talent, experience, and generosity."
Critically,
Lovers Come Back
comes out clearly as a labor of love. Eclectic in its composition,
Lovers
broadly sweeps across the spectrum from rock ("Lost Connection") to alt-country ("Silent Movie") to Motown soul ("You're Blowin' My Mind"). Although disjointed to the point of confusion at times, that seems to be part of the
point
. This album is Chichester's musical biography, and with his vast background of musical alliances, it is only right for him to sail the seas of musical genres on his LP. He does so with an artist's ear, which is severely lacking in much "popular" music, and has delivered an album long overdue from this talented artist.
Happy Chichester is playing at
Sonar
in Baltimore this Saturday, March 24 (check here around Monday for a review) after a show at
9:30 Club
the night before. Happy is opening for
RJD2
and is a guest member of RJ's band for the duration of the tour. Also playing is
Busdriver
.
Visit
Happy's website
to buy the album.