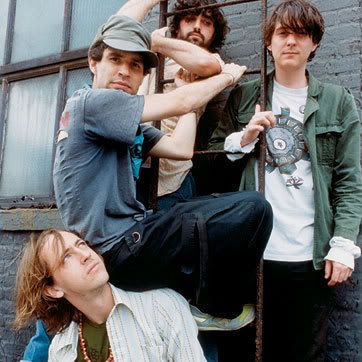 Former Baltimore homeboys
Animal Collective
are movin' on up to a new label,
Domino Records
, joining Arctic Monkeys, among other mammal bands. In light of their new home, they will be launching a tour in February, including these dates (notice the too-big-for-their-breeches boys left out Baltimore):
**EDITED FOR CORRECTNESS**
05-14 Columbus, OH - Wexner Center
05-15 Newport, KY - Southgate House
05-16 Lexington, KY - The Dame
05-17 Chicago, IL - Metro
05-18 Iowa City, IA - Picador
05-19 Omaha, NE - Sokol
05-21 Denver, CO - Cervantes
05-22 Salt Lake City, UT - In the Venue
05-24 Albuquerque, NM - Launchpad
05-25 Marfa, TX - The Marfa Ballroom
05-26 Dallas, TX - Gypsy Tea Room
05-27 Austin, TX - Antone's
05-29 Knoxville, TN - Bijou Theatre
Thanks to
Pitchfork
for the scoop. And thanks to Animal Collective's agency,
Windish Agency
, for screaming at me for posting old dates. That Google alert must move fast. Why don't you pass along the word that they should stop back in Baltimore sometime?