The wonderful people at Engagdet were at MacWorld for Steve Jobs' keynote address this morning, and were kind enough to blog the experience. Some highlights, with Steve Jobs quoted:
Apple TV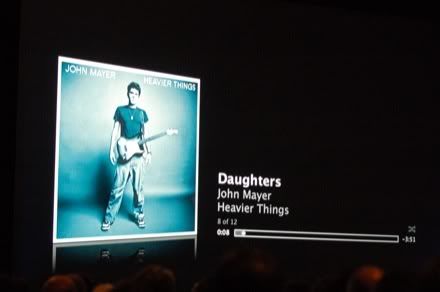 Even though this product was introduced in September, Steve had a lot to offer:
"Apple TV. You can buy great content on iTunes... and you can put that content on your iPod. Now you can buy a widescreen TV and hook up an Apple TV to it, and wireless transmit that content to your bigscreen TV. It's that simple. Let's look at the back to refresh ourselves. USB 2, Ethernet, WiFi, HDMI, component, audio, and optical out." Just like we knew in September, but. . .
"Let me tell you more about what this box does. 720p high def video. It's got a 40GB hard drive, which comes in handy for something I'm about to show you... and 802.11b/g/n, and an Intel processor. It's a really cool box. It works with video, music, and photos. You can auto-sync content from your PC, and you can stream content from up to 5 computers.
"Apple TV... it turns out it's awesome for listening to music on your home theater system. Let me go down into playlists here, I've got a favorites playlist, I'll just shuffle some songs to show you what it's like playing some music."
And the image moves on-screen. "It does that so it doesn't burn a hole in your plasma TV."
So Apple TV will let audiophiles blow up their home theater with their iTunes library. Wireless. Sweet. Price point? $299.
iPhone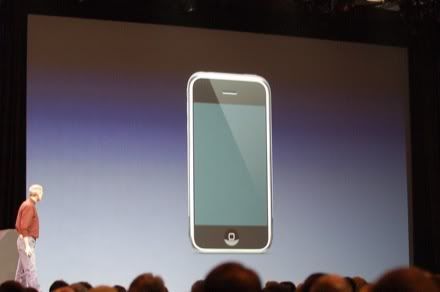 "In 2001 we introduced the first iPod, and it didn't just change the way we all listened to music, it changed the entire music industry." Can you believe it's been 6 years since iPod entered our lives?
"Well today, we're introducing THREE revolutionary new products. The first one is a widescreen ipod with touch controls. The second is a revolutionary new mobile phone. "And the third is a breakthrough internet communications device." .... these are NOT three separate devices!
"And we are calling it iPhone!" There it is. The cat's out of the bag, iPhone is here. "iPhone runs OS X!" Oh, do tell!
"People know how to sync all their media with their iPod. iTunes is going to sync all your media to your iPhone -- but also a ton of data. Contacts, calendars, photos, notes, bookmarks, email accounts..."
A rough look at physical specs:
"It's really thin, thinner than any smartphone. 11.6mm, thinner than the Q and the BlackJack, all of them. Ring and silent, volume up and down. We have a 2 megapixel camera built right in, let's take a look at the top. A headset jack, 3.5mm, SIM tray, and a sleep-wake switch. Let's look at the bottom, we've got a speaker, mic input, and an iPod connector."
And more on usability:
". . .we're going to use the best pointing device in the world -- our fingers. We have invented a new technology called multi-touch. It works like magic, you don't need a stylus, far more accurate than any interface ever shipped, it ignores touches, mutli-finger gestures, and BOY have we patented it!
"We've also got some stuff you can't see -- 3 advanced sensors. It's got a proximity sensor, bring the iPhone to your ear and your display shuts off and toushccreen shuts down. Ambient light sensor -- adjusts brightness, saves power. Third thing is an accellerometer, it can tell whether you're in landscape and portrait. Let's turn it on."
Cingular is the service provider.
"The killer app is making calls! It's amazing how hard it is to make calls on most phones. We want to let you use contacts like never before -- sync your iPhone with your PC or mac. Visual voicemail -- wouldn't it be great if you didn't have to listen to five of them to list to the sixth? Just like email you can go directly to the voicemails that interest you. iPhone is a quad-band GSM + EDGE phone." No 3G! "We have WiFi and Bluetooth 2.0"
And the most important, music-related stuff:
"[Just after powering on the phone] Here's the home screen -- simple icons. Push this icon -- boom, I'm in the iPod. How do i scroll through my list of artists? I just take my finger and I just scroll."
And even a taste of the Beatles playing from the iPhone. How long until those albums are on iTunes?
"It's unbelievable. Here's some album art... no matter what you like, it looks pretty doggone gorgeous. ... with onscreen controls. I was giving the demo to someone a little while ago, and I finished the demo and I said what do you think? They said 'You had me at scrolling.'"
All that, and it holds photos, lets you browse the net (with full version Safari, no less), send email (in push-email, just like on a Blackberry), and you can use Google maps! At a starting price of $499, or $599 for the 8GB version. Pricey, but the idea is that it's $200 for the iPod, and $300 for a smart phone. Put the two together in one iPhone, and you're right where you started.
So that's MacWorld for today. You can stay posted to Engagdet for more.