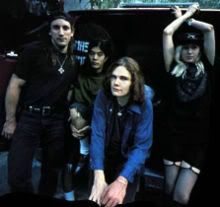 Seen on the Pumpkins
MySpace
:
"The Smashing Pumpkins have made their first official announcement of an appearance in 2007. The band will headline both Rock am Ring (6/2/07) and Rock im Park (6/3/07) Festivals in Germany. Tickets are available beginning on Saturday, January 27, 2007. Tickets can be purchased by visiting
here
. Check out the
festival website
for more information . Stay tuned for many more announcements"
Hey, Billy, here's the announcement I'm waiting for: WHO'S IN THE BAND? Just you and Jimmy still? Where's James? How about D'Arcy? I want D'Arcy! Though I'll be almost as happy with
Auf der Mauer
.