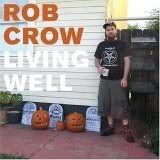 Last week, Rob Crow of Pinback released a solo album,
Living Well
. In case you haven't picked it up yet, and need a nudge, download this free MP3:
Rob Crow - "I Hate You, Rob Crow"
Very poppy, with grungy guitars and a great hook, "I Hate You, Rob Crow" shows that this album should be seen as his best solo work, and should sell accordingly.
As soon as you decide it's totally awesome, click on the album cover above to buy the CD.