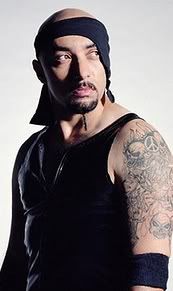 LA rapper
Deadlee
is prepared to kick off the Homorevolution with a tour. Deadlee, a gay rapper, who coined the phrase "gayngsta rapper" has created the Homorevolution Tour 2007 with these tentative dates:
March 29: San Diego, CA
March 30: Los Angeles, CA
March 31: Las Vegas, NV
April 1: Phoenix, AZ
April 2: Albuquerque, NM
April 3: El Paso, TX
April 5: San Antonio, TX
April 6: Houston, TX
April 7: Austin, TX
April 8: Dallas, TX
The tour will feature hip-hop artists from within the LGBT community including Johnny Dangerous, Delacruz, Melange Lavonne, Salvimex, Bigg Nugg and JFP.
Deadlee has boldly spoken out against homophobia in the hip-hop community, particularly from artists DMX, 50 Cent, and Eminem, often accusing the stars of having their own homosexual tendencies, hiding them with homophobic behavior.
Much respect due to Deadlee for speaking out on the obvious discrimination against the LGBT community in hip-hop. Wishing you best of luck with the tour. Source:
All Hip-Hop