Peter Bjorn & John
are at the Bowery Ballroom in NYC tonight, before taking a coast-to-coast flight for these dates:
February
01 Los Angeles, CA - The Roxy
02 Long Beach, CA - Fingerprints Records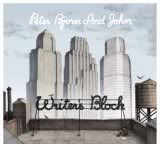 The new PB&J (get it?) album comes out February 6 on
Almost Gold Recordings
, and you can pre-order by clicking the album art.
For now, have some PB&J for breakfast, lunch, dinner, whatever meal is approaching and download
"Young Folks"
by Peter Bjorn & John. Whistling, toe-tapping percussion, a head-bobbing bass hook, all lovely.