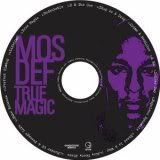 The recent release of
Mos Def
's
True Magic
in a jewel case sans art and containing nothing more than a CD with Mos' mug on it baffled many shoppers, as did the release date. Some copies were reportedly available on Tuesday, December 19, but the 'official' release was December 29, a Friday. Apparently there is a
logical explanation
for all of this.
As MTV News reports, the album leaked in December (Mos, was that you?), so
Geffen
and, purportedly, Mos Def, decided to pull the physical album release forward and get the album in stores. That's why the CD was naked. But then, they wanted to hold off and tried to postpone. Wait, too late! The album was already shipped, and stores are not obligated to pull their stock in this case. As a result of the helter-skelter release of
True Magic
, sales only hit 11,000 in its week of official release.
Geffen's solution? Calling this a "limited edition" pre-release and planning to reissue the album later this year with a slightly modified track listing (read: in a different order) and some artwork, or at least a tray liner.
The more subtle and more likely answer to why this reissue is going down is that, this being Mos' last contractual obligation to Geffen, he was slightly uncooperative and wanted the album out, forgoing the drawn out art discussions and releasing the ridiculously bare (and by some reviews, ridiculously lame) product you see on shelves now. A logical guess is that the scheduled reissue is a loophole of sorts that allows Geffen to keep Mos bound to use his best efforts to promote the album by making media appearances and otherwise plugging the album, Geffen being unhappy with the album sales and blaming it on the silly state of its (pre)release.
Even if the leak was the impetus for the quick release, rumors abound that Mos Def is dying to get out of this contract, and here he is stuck for this much longer. Hang in there, Mos!
And if you want to get a hold of one of these albums while they're around, click on the CD. Limited edition, yeah, right. 11,000 sold, and you can still find it. The edition is limited to as many as they can sell, folks.