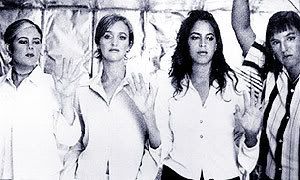 The fabulous women of Luscious Jackson have been hard at work since parting ways in 2000, as Jill Cunniff plans to release a solo album called
City Beach
(the link will get you to an import released on January 30) on February 20, the same day that Luscious Jackson's Greatest Hits will drop.
And, as
Billboard
reports, three of the four members of LJ are working on an album of children's music, "due sometime this year."
The track listing for Luscious Jackson's Greatest Hits:
"Naked Eye"
"Under Your Skin"
"Citysong"
"Deep Shag"
"Ladyfingers"
"Christine"
"Let Yourself Get Down"
"Why Do I Lie?"
"Nervous Breakdown"
"Strong Man"
"Beloved"
"Friends"
"Love Is Here"
"69 Annee Erotique"
"Here"
"Ladyfingers" (Kut Mastra Kurt remix)
"Naked Eye" (Tony Mangurian remix)
"Why Do I Lie?" (Pants On Fire remix) - Pants On Fire remix by Beastie Boys' Mike D
"Nervous Breakdown" (Thievery Corporation remix)